Future Plans
PLEASE HELP US PROVISION OUR NEW WILDLIFE FACILITY
Our new wild life facility is almost finished; but due to demand we are already housing nearly 300 hedgehogs hoping for release in the warmer spring weather.
We still desperately need funds to purchase more housing for our hedgehogs and birds plus heat mats and heaters to keep them warm throughout the winter.
Rescued wild life is now a very important part of our animal rescue work and not a day goes by without a call for help, ranging from pleas for injured swans and deer to orphan fledglings and tiny mammals needing feeding throughout the day and night.
During the winter we care for hedgehogs too small to survive hibernation and through the spring and summer we admit many hedgehogs suffering from strimmer injuries, traffic accidents, poisoning, (slug pellets are lethal) stuck in ring pulls, empty food cans and even tennis court nets. Hedgehogs, the gardener's friend, are on the verge of becoming a threatened species and we must do all we can to ensure their survival.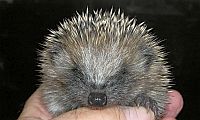 One of many birds helped and released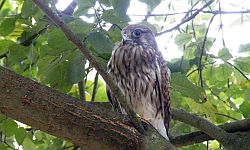 We hope to include pens for water birds, both dry and with access to water, a treatment room and theatre so that wild creatures no longer have to share our vet unit with domestic animals which is not at all ideal. A small animal area where hedgehogs and other small mammals can be safe and warm, a food preparation area, plus aviaries and outside pens where the larger animals and birds can recuperate.

WE CAN ONLY DO IT WITH YOUR HELP
This young swan was found his foot webbing stitched together with a pike lure He made a fantastic recovery and here he is overjoyed to be released back onto his river and re-united with his mate.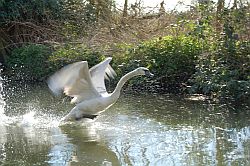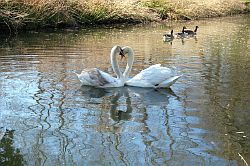 Cattery Project
​The cattery project is now completed but we still need regular donations of bedding and food.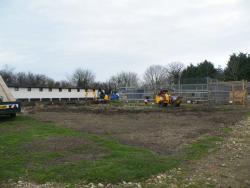 When the sanctuary first moved on to the site at River Farm, planning permission was obtained not only for 'change of use' but also for a considerable development of permanent buildings for the animals.
These included housing for 150 cats, 20 dogs, 100 rodents, staff washroom and toilets, disabled facilities, storage for food and bedding.

Thanks to the generous donations from our supporters and the wonderful grant from 'Pets At Home Support Adoption for Pets' we are now in a position to start work on our new cattery as soon as the weather is dry enough to lay concrete. We have decided to build in three sections and we have enough funds to complete two of those buildings, but do still need to raise funds to equip them fully, provide the outside runs and to build the third section. So please continue to donate.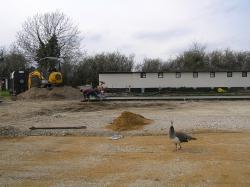 Footings in place and Project Manager (bird at front) is checking on progress.
She is not on the payroll and more to the point she is not on expenses!

Cattery is opened by Fenella Fudge from Radio Two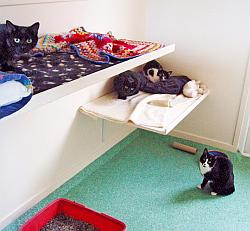 One of the new cat rooms.