PACT ANIMAL SANCTUARY
Our Team

The Trustees of PACT have overall responsibility of the charity and they meet once every month with the administrators who look after the day-to-day management of the sanctuary and funding.
If you would like to give a regular donation to the sanctuary please


click here.
Chris Rockingham - Co Founder of PACT
An extraordinary lady, who is responsible for overseeing the care and rehabilitation of all who come into PACT. She can be seen frequently wading in rivers and the like after some unfortunate swan or duck that has got into some kind of difficulty. She also gets involved in many of the fundraising events to enable the sanctuary to remain solvent.
George Rockingham - Co Founder of PACT
George deals predominantly with finance and marketing a daunting task, but also goes out on rescues and deals with emergencies coming in on a daily basis.
Without George and his wife Chris PACT Animal Sanctuary would not exist. Many animals and birds owe their life to them.

Together with a dedicated team of employees and volunteers they support and care for over 1200 animals and birds in the Sanctuary at any given time.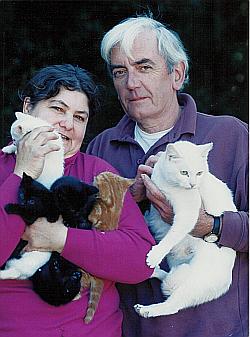 Chris and George with Mum cat and kittens
Some of our team


Anne
Veterinary nurse


Ann takes care of the general veterinary needs of all the Sanctuary animals.
Volunteers

There are also about 30 occasional volunteers who help to care for the animals. In addition to the volunteers who just love animals, and want to help the work, they have some helpers experiencing health problems, including Stress, ME, MS, and Polio sufferers.
Some come just to sit with the cats for an hour or so, others at different times to walk dogs, and still others who spend two or three days a week at the sanctuary.
These people are absolutely essential to the running of the sanctuary and their help is greatly appreciated by the Sanctuary staff but most of all the animals they help.
Rita
Animal Care Assistant for Cats
Rita is responsible for the cattery which is over flowing most of the year.The cats just love her, I wonder why!
Charlene
Senior Animal Care Assistant
In charge of cats.
TANYA
Animal Care Assistant
Charlene is responsible for the care of the cats and kittens that come into the shelter. She works with the felines both in the quarantine area and the cattery.
David
Senior Animal Care Supervisor
David is responsible for the rabbit village. PACT have many rabbits waiting for that special home.
Working and being with the animals has proven to be an excellent aid to help people regain self-confidence and learn to cope and relate to people.
Charlotte

Assistant manager of the sanctuary.
Charlotte works with the dogs and is responsible for their overall care and well being. She along with other staff deal with dogs who often come in fearful, sick and traumatised. This can make them difficult to deal with, but with kindness and patience Charlotte, other members of staff and volunteers gain their confidence and trust transforming them into dogs that are ready to face life again with a new owner in a new home.
Emma
Animal care assistant.
Emma helps in all areas of the sanctuary and is holding one of our more lively residents!
Others as a result of their work with the animals have found full time employment. In fact two of our current employed care assistants were students at PACT.
Sophie
Sanctuary manager
with a resident goat.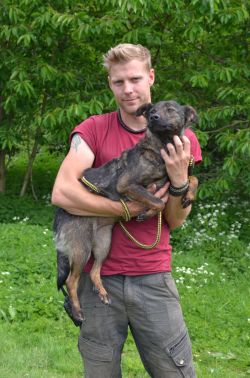 Ray
Acting Sanctuary manager with one of our Romanian dogs
Sophie has the dubious pleasure of overseeing the day by day running of the sanctuary with all the complex issues that arise. She has an overall knowledge of all the species that are resident or guests within the shelter.
Office Staff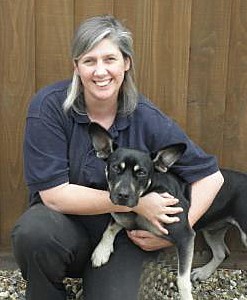 Jo

Assistant to The Administrator
The PACT office is often the first port of call for people wanting to get a new companion and for people wanting the animal shelter to take their pets. This image shows Jo, who is one of our assistance to The Administrator, with one of our guests.
Su

Assistant To The Administrator
Su is the other assistant to The Administrator with one of the kittens she hand reared. Both Su and Jo are based in the office but both ladies give many hours of voluntary work both in admin and helping with the animals.

PACT is now accepted as one of the best environments for animal welfare training in East Anglia.
If you wish to contact us please telephone 01362 820775 or email us