Our Work With Wildlife
PLEASE HELP US PROVISION OUR NEW WILDLIFE FACILITY
Our new wild life facility is almost finished and will be ready to admit patients by December until then we are managing with difficulty with our existing small accommodation overflowing into the vet unit and winter rabbit quarters. We still desperately need funds to purchase more housing for our hedgehogs and birds plus heat mats and heaters to keep them warm throughout the winter.
SOME RECENT RESCUES
A TAWNY OWL, A CHINESE LANTERN AND A FIREMAN
The tawny owl was discovered by a member of the public who was walking along School Road Bradenham Norfolk last Friday afternoon 23rd September.
He was hanging about 20 feet up from a Chinese lantern wire by his legs. The Chinese lantern wire had become wrapped around a power line and the lantern itself had become trapped in a tree thereby stretching the wire between the tree and the power line. Read his rescue story here.

HEDGEHOGS
During the winter we care for hedgehogs too small to survive hibernation and through the spring and summer we admit many hedgehogs suffering from strimmer injuries, traffic accidents, poisoning, (slug pellets are lethal) stuck in ring pulls, empty food cans and even tennis court nets.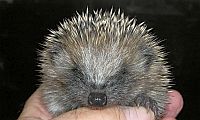 Hedgehogs, the gardener's friend, are on the verge of becoming a threatened species and we must do all we can to ensure their survival. Our present housing is literally falling apart so we have to replace it, it will only survive at best one more winter. Now is the time to do our best to build something which will last and help save many more lives.
Recently we collected a female hedgehog from Kings Lynn which had been bitten on the back by a dog, we started treatment and realised that our girl was a little on the tubby side. Even so we were surprised the following morning to find that she had given birth! Read the full story here
WILD BIRD RESCUES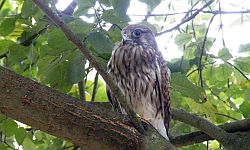 We have rescued many animals and will help many more.
Read some of our many individual rescue stories by clicking here.
THE NEW WILDLIFE FACILITY
We have planned to include pens for water birds, both dry and with access to water, a treatment room and theatre so that wild creatures no longer have to share our vet unit with domestic animals which is not at all ideal. A small animal area where hedgehogs and other small mammals can be safe and warm, a food preparation area, plus aviaries and outside pens where the larger animals and birds can recuperate.
The basic building is at last finished. Electricity and plumbing are being worked on now and the mains will be connected on 20th November. Before then we have to furnish the empty rooms with housing and equipment to care for residents. We have decided on the special cages, pods and pools for the water birds. All we need now is the funds. If you would like to contribute, perhaps in memory of a loved one, please contact us.
WE CAN ONLY DO IT WITH YOUR HELP
If you would like to give a regular donation to the sanctuary please click here.
MAURICE SPARKES MEMORIAL WILDLIFE SITE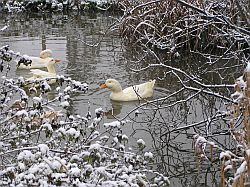 This area is known as the Maurice Sparkes Memorial Wildlife Site. It is dedicated to the memory of a very dear man who was totally committed to the preservation of wildlife and animal welfare, and it is in his and others memory that funds were available to complete the work.

Included in the 15 acres at the Sanctuary, is an area of 2.5 acres with large ponds, which is dedicated to wildlife. A predator proof fence has been erected so that injured wildlife that would not survive in the wild can be released here to live as normal a life as possible in safety.
Pictured below is a tawny owl at the point of a successful release. This bird had apparently been the victim of a road traffic accident, but luckily was only slightly stunned. After treatment in the vet unit and a few days rest and recuperation this owl was once again able to fly free

Recently PACT have been able to assist two local Elderly Residential Homes by removing families of young ducks, who were causing hazards to the residence and rehome them on the ponds in this area.
If you would like to support PACT with their work with wildlife please contact us
on 01362 820775 or email us.