Recent Animal Rescues
THREE ELDERLY GOATS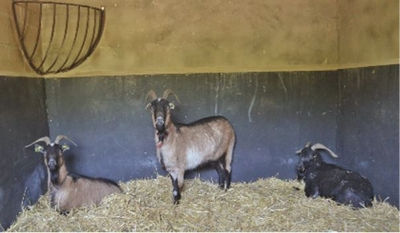 Three elderly goats needed a rescue place when the owner was unable to continue with their care. PACT arranged for them to be transported to the Sanctuary from Wales in the hope that they would be able to live happily with us for a few more years.
Sadly, this was not to be as soon after they arrived Sulieman was found to be suffering from a tumour in his throat preventing him from eating, although we tried our best to help him, on advice from our vet we reluctantly had to let him go to Rainbow Bridge.
Then Lily became very ill and once again we could not save her. Her twin brother Freddie stayed loyally by her side until the end and we were worried that he would pine. However, with lots of TLC he is making good progress and has found new goat friends among our special care herd.
Sometimes despite our best efforts we cannot save them all but at least we can ensure that they are happy and comfortable for as long as possible and that they know real love. In memory of Lily and Sulieman please help us to continue to care for all those animals who need to find love and Sanctuary.

MOSES AND COCO

Moses and Coco, two very sweet little donkeys needed a new home at over eleven years of age when their owner, could no longer care for them properly. After complaints and inspections by the RSPCA and World Horse Welfare their owner agreed to relinquish them to our care. Their coats were not in good condition and their feet, as you can see from the photo, were well overdue for a trim.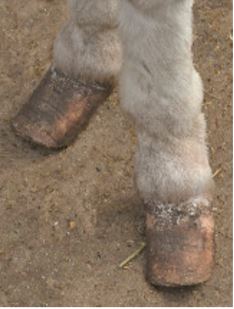 The donkey pals have settled in well and their health has improved considerably, the farrier is happier with the state of their hooves and feels that with one more trim they will have normal feet and no permanent harm will have been done. Very soon now they will be introduced to Eeyore and Ma (so far they have only chatted over the fence), and we hope that the four will be really good buddies.
BOA CONSTRICTOR
September 2018
A four foot long Boa Constrictor who was found in poor condition and brought to PACT to be cared for.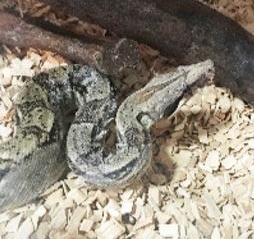 SWAN RESCUE
30th August 2018
This poor swan seems to have crash landed on the A47 mistaking the wet road for the river last night.
The police contacted the PACT out of hours on call team in the early of the morning and assisted our Anne to get the injured swan to safety.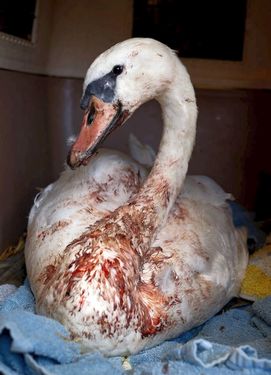 Our vet made her comfortable for the night and she has now been taken to a specialist wild bird vet and we are hopeful that her damaged beak can be fully repaired.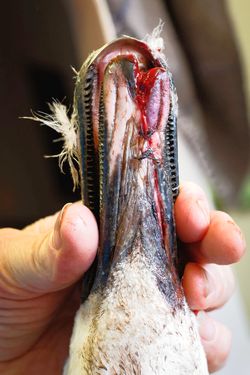 ANGEL AND BONITA
Having been callously dumped by their breeder in a 'kill shelter' in Budapest Angel and Bonita two beautiful Mastiff girls aged around six and seven years old were eventually rescued and transported to Scotland.
Their new owner was very shocked at their condition which bore no resemblance to their photographs posted on the internet which had inspired her to offer them a home. Both girls were very thin, but Angel was positively skeletal.
ANGEL
Both had suffered fly strike to their ears causing horrific pain and again poor Angel had sustained the worst damage.
ANGEL'S EARS BONNIE'S EARS
Their new owner soon realised that not only were two large Mastiffs way too big for a small flat already home to a family plus cats but that she was not going to be able to afford the extensive veterinary fees needed to enable them to fully recover. In fact, up until arriving at PACT neither had received any proper veterinary care.
Angel and Bonita's prospects looked poor and they were faced with the possibility of being put to sleep or worse until PACT was alerted to the dogs' plight. Our Sarah and Jake drove to Glasgow and back in a day to help this pair of friendly affectionate lovely girls. Once Angel and Bonita have fully recovered and are well enough to leave the Sanctuary they will be off to the forever home which has already been offered to them.
In the meantime, they are being well cared by our kennel staff and vet team and already gaining weight and looking so much happier.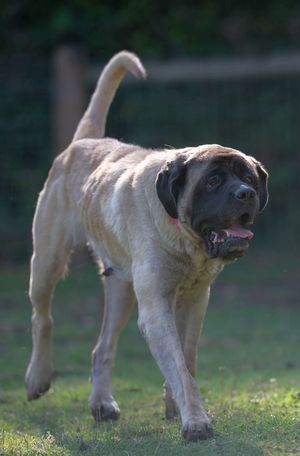 Please click here to help PACT pay the extensive vet and feed bills these girls are incurring so that they may go on to lead the life that they truly deserve.
PASCAL THE FRIENDLY CHAMELEON
PASCAL is a two and a half year old Chameleon who was brought into PACT after his owner died. Unfortunately due to unregulated conditions in his vivarium after his owner died he was not in the best of health on intake. He is currently receiving veterinary treatment for a mouth condition but he is continuing to put on weight, his skin is improving and is now back to a lovely green colour.
He is a cheeky chap who was clearly loved and well handled by his last owner. He loves company and will happily climb all over anybody who lets him.
Chameleons need specialist care as they can soon become ill if their living conditions are incorrect. As with all living things the larger the living quarters the better. All vivariums need a thermostat, correct humidity levels, basking lamps, lighting, a UVB tube, misting system, plant drippers, branches, bioactive substrates for flooring, foliage, fake plants, live plants and live feed. It is also recommended that you find and register with a specialist exotic veterinary.
If you think you could offer Pascal a home please contact the sanctuary in the first instance on 01362 820775 or email us


Exotic Quail
Imagine a lovely ladies surprise when she went to feed her chickens and found this exotic bird in with her flock. This friendly bird could be an escaped pet but remains unclaimed.
PYGMY HEDGEHOGS

More and more we are seeing exotic animals from other countries being kept as pets, not always a good thing and too often people buy these creatures without understanding their needs.
Pygmy hedgehogs are a prime example of such a fad and just like the poor degus soon go out of fashion.
This sweet looking little one is one of a pair who are a looking for someone knowledgeable to care for them for the rest of their natural lives.

TWO HORSES, FIVE ANGORA GOATS AND AN ALPACA
Two beautiful old horses, Crystal and Willow, five elderly rescued angora goats and an alpaca called Maverick sadly had to be relinquished to PACT when their owner had her work hours reduced and was no longer able to afford their care.
Crystal and Willow had been originally rescued from different homes but had become inseparable companions and as it had proved impossible to find a suitable home where they could stay together for the rest of their lives
PACT agreed to take them. We always test any incoming equine for a nasty disease called Strangles which causes terrible suffering and can be fatal. They are kept in quarantine and not allowed to mix with others until they are proven to not be carrying the illness. Unfortunately Crystal tested positive and so the girls had to stay in quarantine and have many further tests until she was pronounced safe. The two horses are now enjoying their retirement in one of our sheltered paddocks.
The angora goats had been recently rescued from neglect, sadly two of the goats succumbed to the long term effects of liver fluke which is caused by a specific snail, had not been de-wormed with the required medication and subsequently passed away. The remaining three are on a special regime devised in conjunction with our vet and we are hopeful that we can nurse them through.
Maverick the handsome Suri Alpaca boy had been used to father little alpacas and for his lovely coat which is sought after. Now retired from his stud duties and living at the Sanctuary, he has been neutered so no more babies, once fully recovered from his little op he will be turned out with his goat friends. He is such a character and we feel he will be a very popular addition to our sponsor scheme.
A TAWNY OWL, A CHINESE LANTERN AND A FIREMAN
The tawny owl was discovered by a member of the public who was walking along School Road Bradenham Norfolk last Friday afternoon 23rd September (2016). He was hanging about 20 feet up from a Chinese lantern wire by his legs. The Chinese lantern wire had become wrapped around a power line and the lantern itself had become trapped in a tree thereby stretching the wire between the tree and the power line. Poor owl had obviously flown into the wire and had become embroiled in the wire which was wrapped around his legs and talons, leaving him dangling and flapping his wings unable to escape. As he was higher up than our ladders could reach and attached to a power line this was not a rescue that we could carry out unaided, therefore we called the fire brigade who came out promptly and the brave firemen helped rescue tawny for which we and he are extremely grateful.
We and other rescue organisations and farmers are seeing more and more accidents involving Chinese Lanterns, I'm sure that people just do not realise how dangerous they are, and we would appeal to the public to find safer and more environmentally friendly ways of celebrating their special events.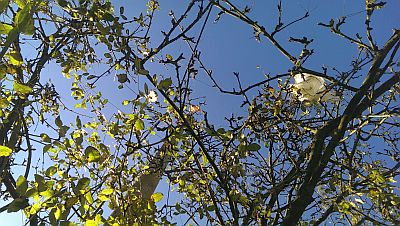 The owl was brought back to the PACT Animal Sanctuary where he was given first aid and was cared for in our veterinary unit. He recovered well from his injuries and has been released back into the wild.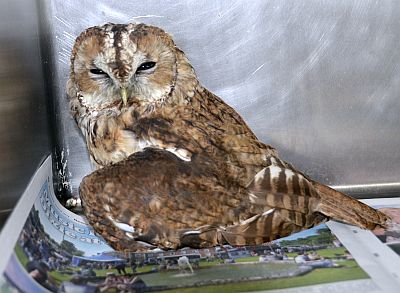 We collected a female hedgehog from Kings Lynn which had been bitten on the back by a dog, we started treatment and realised that our girl was a little on the tubby side. Even so we were surprised the following morning to find that she had given birth. She had four babies of whom she was very protective which did make caring for her wound a little awkward. Mummy and babies did well and will add to Britain's dwindling hog population.
Shortly after admitting one pregnant hedgehog we were asked by a local vet to take another injured hedgehog mummy this one had already given birth to three hoglets but was lethargic and not feeding her babies properly. Sadly one baby was dead on arrival and in spite of our best efforts the weakest baby also died. Mum and the lone survivor are doing well though.
Hedgehogs need all the help they can get now, so please keep dogs under control, and check all bonfires before lighting. Report any small hog seen out in the colder months and leave out food for the adults.
TAWNY OWL RESCUE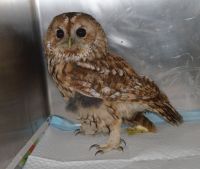 Yet another rescue by our 24/7 call out team after a full days work. He was found trapped by his wing on a barbed wire fence. After x-rays were taken in our veterinary unit, it was decided that the wing was broken but could be mended, and with care and TLC and as long as we do not handle him too much he may recover to fly again in the wild.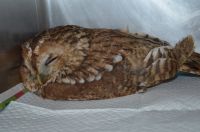 SWAN RESCUE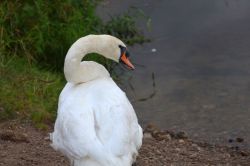 PACT Animal Sanctuary received a report from a concerned member of the public to alert us to a swan who appeared to have a length of fishing line hanging from his bill. George Chris and Fiona drove to the river and found the swan in question with his mate; a passer-by said that this swan had had something trailing from his bill for the last few days.
Fiona and Chris in the river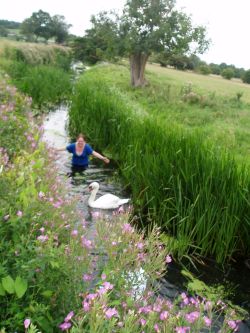 As the swan did not seem at all interested in food there was no chance of enticing him onto the bank for an easy capture so Fiona and Chris had to take to the water to separate the swans and capture the male. Fortunately the river was not too deep but it was rather weedy and muddy so not too pleasant. The swan did all he could to evade being caught and eventually dashed into the reeds for the bank swiftly followed by Fiona who successfully grabbed him.
Long walk back to ambulance with an unhappy swan!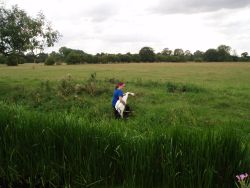 Then followed the log walk back to the ambulance carrying a rather heavy and none too happy swan. The fishing line had miraculously disappeared and on examination no obstruction could be found but it was decided to return the swan to sanctuary for X ray just to be sure that there was not a hook or any weights or line in his gut.
Back to the river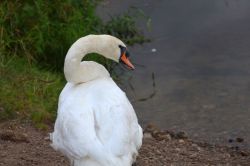 The X rays were clear and so our swan was returned to the river and his mate the same evening, you can see from his photos that he was pleased to be home and swam off happily to join his mate again. The kind lady who had initially told us about his fate readily agreed to monitor him just in case and so far there have been no further concerns. A happy ending and well worth the soaking.
All is well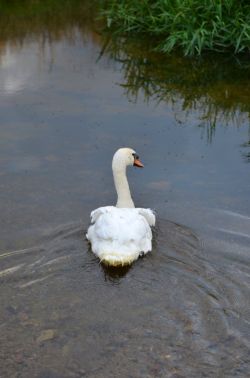 Little Owl
Found grounded and soaked this Little Owl was brought to the Sanctuary where we found that he had sustained a fracture to his leg. His leg has now been pinned and he is recovering well and will soon be ready for release back into the wild.
FEN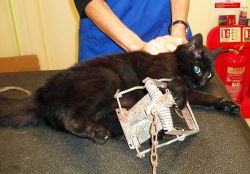 This little feral cat has had a very lucky escape. Caught in a trap by one of her legs she dragged herself into dense scrub land. She was found by a member of the public and was bought into the sanctuary. The trap itself is legal (unbelievable but true) but was set in ground frequented by domestic animals and children thereby making it illegal.
Without the help of humans she would have died a very slow agonising death. So a big thank you to all the people involved in her rescue.
She is making good progress and will hopefully make a full recovery. If she is considered too wild then she will be released in the sanctuary and spend the rest of her days with us. All in all a very lucky young lady.
Carys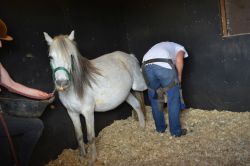 Carys came to the sanctuary in foal. Everyone is waiting for the happy event.
Raine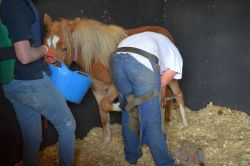 Raine one of our wild welsh ponies. First appointment with the farrier. She is coming on very well.
Our first pygmy hedgehog
Our very first rescued pygmy hedgehog, sadly this little one was involved in a house fire and although luckily he survived without injury other than a few missing spines his owner had nowhere to keep him. After being checked out by the vet he was in need of a good home and so of course PACT stepped in with an offer of a rescue space. Milo is still under veterinary care but already has found his forever home and is looking forward to a bright future.
Hissing Sid Vicious
This tiny otter cub just walked into someone's house, obviously cold weak and hungry and in need of urgent help. The kind householders established that there was no mother otter nearby and then made him comfortable and telephoned animal sanctuaries and rescue organisations but were unable to find anyone prepared to take on the helpless creature.
They called PACT, and of course we agreed to admit the young otter. Her rescuers drove her all the way from Suffolk to River Farm in Norfolk. We estimate young Kit (as he is now known) to be somewhere between 6 and 10 weeks old, not yet weaned and needing very special care and feeding. Otters in the wild stay with their mothers until between 12 and 15 months of age so we are in for the long haul but will probably have to move him to a more specialist centre once he is fully weaned and mature enough to feed and interact with other otters of a similar age. Once again we are greatly indebted to Grace Yoxon founder of the International Otter Survival Fund based on Isle of Skye for all her help and advice. http://www.otter.org/
Update 1: Kit has been renamed Hissing Sid Vicious. He is one feisty young otter who will go to a specialist in this species as soon as possible so that he can interact with other otters.
Update 2: Sid has been successfully released!!
SWAN RESCUE
This young swan was found his foot webbing stitched together with a pike lure He made a fantastic recovery and here he is overjoyed to be released back onto his river and re-united with his mate.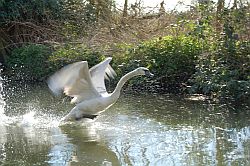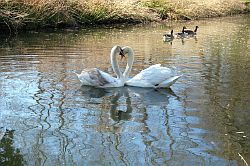 This heron was found separated from any food source by overgrown brambles, starving and very weak. So weak that he was unable to take in food himself and had to be put on a drip and then when he was stronger force fed. He is now out in a release aviary and eating really well. He will be released as soon as he is deemed to be fit.
Fledglings
Every year we give out the same warnings, please do not approach or handle any young wild creature. They really are much safer being reared by their natural parents. Please just observe from a safe distance and only when you are sure that the baby is not being fed and needs help call your local wildlife sanctuary for advice. PACT are always happy to help with any bird or animal in trouble but we do not want to interfere unnecessarily with nature.
Young Roe Deer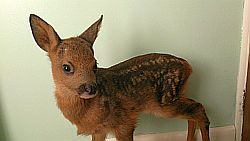 This young Roe deer in definitely an orphan and although it is early days and things could still go wrong Bambi is doing well with her foster mum Fiona.
UNNECESSARY BREEDING AFFECTS ALL SPECIES
TO BREED OR NOT TO BREED - SHOULD THIS EVEN BE A QUESTION?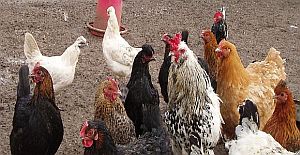 lf I had a pound for every time somebody started their conversation with "I thought it would fun to hatch out some eggs" we could replace all our chicken houses for brand new state of the art ones. A brood of chicks roaming around the garden or chicken run is a lovely sight to behold, but what happens when they grow up?
If hatched out hens, you have the added bonus of a bigger egg production. However, if you live in an urban area how are your neighbours going to feel about a cockerel (or 6!) crowing at 4:00 am? Here in the office we are inundated with requests to take in cockerels bred by their owners with no thought of the consequences and receiving complaints from their neighbours about the noise.
In this time of economic crisis many people are looking into becoming self-sufficient with allotments or vegetable patches and branching out into chicken keeping and so the problem escalates.
At the end of March PACT were approached to rescue of a number of hens who had come to the end of their commercial use. The amount of hens we were asked to take, far exceeded our capacity to house on site. As we wanted to rescue as many as possible we put out a cry for help to re-home these unwanted ladies on our face book page. To ou amazement the post reached 9789 people! This enabled us to rescue 254 hens, all of which have now been re-homed. I hope that everybody who took them on are enjoying as many fresh eggs a day as I am from my girls who laid from day one .
With another hen rescue looming on the horizon and many animal sanctuaries full to capacity is there any need to breed?
Terrapins
Two rather large terrapins were brought to PACT as the kind lady who rescued them was concerned that she did not have the right facilities or knowledge to take good care of them. They are now being cared for properly by an expert but are available for rehoming to someone who is able to give them the environment necessary for a long and healthy life. Terrapins do need specialist care and plenty of space, please call us if you are experienced with the species and can provide them with a home for life.
Very Lucky Buzzard
This unfortunate buzzard was found hanging by his wing from barbed wire during our recent chilly snowy weather. He was cold and hungry, his wing was badly lacerated and infected and we were at first afraid that it might be broken but x rays have shown no fractures. We are hoping that once his wounds and muscle damage have healed he will be able to be released back into the wild. Hopefully he might be a little more careful in the future when out hunting.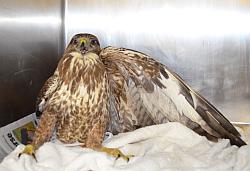 Being released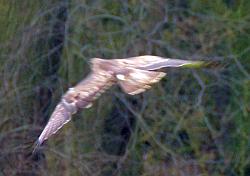 Swan Rescue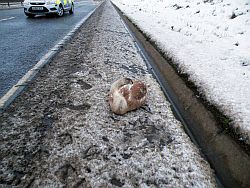 A cold and snowy Sunday afternoon and the staff were struggling in the ice to feed and care for all the animals when we received a call from the police asking for help with an injured swan causing a traffic hazard on the A47.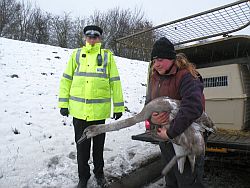 We responded immediately and brought the young swan to safety here at the sanctuary. The police had noticed a nasty gash to the swan's throat which on examination we found to be caused by fishing line still wrapped around the poor birds neck.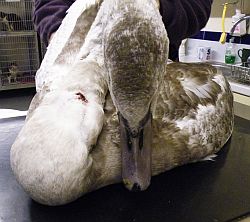 The wound was at least a day old and infected and of course there was now the worry that the swan could have ingested line or hook or even a possibility of lead weight.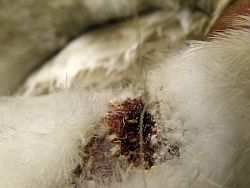 The wound has been cleaned and treatment started and hopefully after a night in the warm our swan will soon feel much better.
Dwarf Hamsters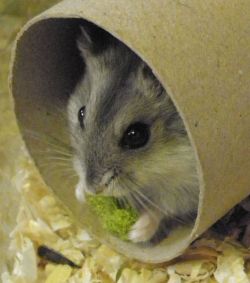 We currently have 20 hamsters looking for new homes after one unfortunate owner unwittingly bought a male and female pair. Several litters later they admitted defeat and asked PACT to help. Notoriously hard to sex, it is very easy to mistake girls and boys especially when they are very young and they breed very quickly. Now at PACT we have split up the groups and are waiting for the last two litters to be old enough to be taken away from their mums. As they are dwarf hamsters they will happily live in same sex pairs and need a suitable sized cage with plenty of toys to keep them active. Average life expectancy is 1.5 - 2 years, these delightful creatures are more active at night and are not suitable pets for young children.
Orphan Rabbit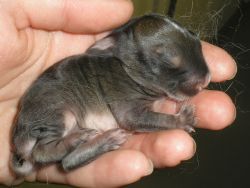 This tiny scrap of life will hopefully grow up one day to be a fine bunny. Brought into the sanctuary with two siblings after their mum was found dead in the hutch, the tiny trio will need intensive hand rearing to be given a chance to hop around a lovely garden in the future.
As always we are inundated with rabbits. As well as the usual parents stating their children aren't interested in their pets anymore, we are being contacted by a lot of owners who have 'accidentally' bred litters as they were unaware they had a male and female pair or have bred litters on purpose hoping to gain some 'easy' cash and found they could not sell the babies on.
Rabbits are such lovely pets who give back a lot of joy to their owners. They are best kept in neutered male/female pairs and require vaccinations to prevent myxomatosis and VHD which are both deadly. We have many rabbits waiting for their forever hutches and we neuter and vaccinate before rehoming.
SCRUFF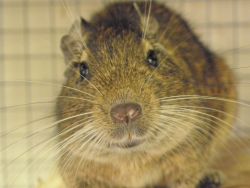 This is Scruff the degu, looking for a forever home with his friend Tom. Degus originate from Central Chile, are naturally social animals who prefer to live in groups and if handled correctly become very tame. They are quick, agile, naturally inquisitive and very intelligent with a life span of 6 to 8 years. Best suited to adult or teenage owners they need a large metal cage with multi layers to explore and, as they are voracious chewers, lots of toys and chews to keep them active and engaged. They do not like high temperatures so need to be kept in a cool room out of direct sunlight. As with all animals a balanced diet is essential and it is best to feed them on Degu nuggets (available in most pet stores) to stop selective eating and good quality hay. Fresh fruits in very small quantities once or twice a week are good treats but should not be fed daily as this can cause diabetes.
Poor Basil
This gorgeous rabbit was found wandering in a terrible state. We'll never know whether he had been intentionally abandoned or simply lost, either way without being rescued he would certainly have died from fly strike or dietary upset.
Not only has this lovely boy lost his front teeth, one missing completely one just a broken stump, but he had a huge ball of compacted faeces on his bottom making it impossible for him to toilet properly. This meant that he was unable to groom and to digest his food in the normal way.
Basil as we have named him is now doing very well and will soon be neutered so that he can find a friend and hopefully a loving new home.
There are many rabbits that are ready for homing. If you would like to adopt a rabbit contact us here.
Duck caught in trap
On the last day of their holiday an animal loving couple spotted a group of ducklings surrounding what they thought was a dead mother duck in lying in the road. On further investigation they found that the babies were in fact huddling around a dead rabbit, so the search was on for mummy duck. She was found caught in a vicious looking metal trap, the jaws of which were closed on her leg and her chest. With blood coming from her mouth the duck didn't seem to have much chance but the kind pair still went ahead and retrieved her from the trap and caught all the nine little ducklings.
Ducklings having a swim
After telephoning a local vet who told them that if the duck could walk she was probably alright they called PACT for further advice. We felt that the duck needed on going veterinary observation and probably should not be released in the same area in case she and her ducklings became trapped again.
Trap mother duck was caught by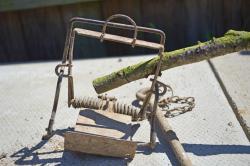 Mum and babes were brought to the Sanctuary where she is recovering well from her ordeal and will soon be released onto our lake where they will be safe. We will of course be contacting the land owner and hope that he will remove these cruel and deadly traps from his property.
PACT animal shelter rescues many different species of animals and birds.
Birds Birds And More Birds!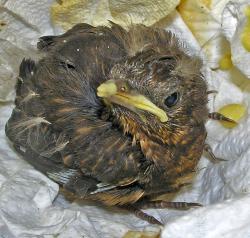 Fledglings and more fledglings. Its that time of year again and our Terri is absolutely inundated with baby birds to feed, of every variety from tiny goldfinches to the larger birds of prey. Please remember, before picking up any infant wildlife that babies of any species usually do best when reared by their natural mother. So if you see a fledgling apparently alone, remove all danger possible i.e. Keep your cats in for a while and watch carefully but out of sight of parents. Nine times out of ten a mother bird will appear to take care of her little one. Only when you are certain that the baby is abandoned take it in and contact your nearest wildlife rescue centre.
Dozens Of Ducklings
Dozens of ducklings! Every spring and early summer we admit orphan or abandoned ducklings, but this year we have been busier than usual. Mostly mallards, we have taken in ducklings of all ages from the just hatched to the half grown. Ducks generally do not make good parents and do tend to leave behind the smallest and weakest who are unable to keep up. Then of course there are the tragic road accidents, for some reason ducks seem to enjoy taking their babies for walks along roads, often ending in fatalities.
Killing With Kindness
Rescue rabbit unable to clean itself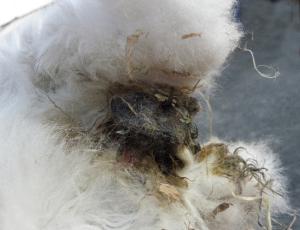 Despite our ever growing population of rabbits here at the sanctuary, we recently took in a pair whose owner could no longer afford to pay their vet bills. While we all agree we want to give our pets the best we can offer, too much of a good thing can be detrimental to their health and unfortunately this pair were loved and cherished to the point of obesity.
A balanced diet is as essential to pets as it is to us humans and must be supplemented with love, exercise, mental stimulation but above all appropriate portion size.
As one of the rabbits had no front teeth their doting owner prepared a selection of fruit and vegetables into manageable sizes every day to supplement their dry food and they were only too glad to hoover up all that was put in front of them. Unfortunately the portion sizes were way too big and they were not burning off the calories they were consuming. The result? Both of these bunnies are seriously overweight to the point that they cannot clean themselves properly. When put into a hutch and run, straw and faeces mat into their fur as their bottoms are constantly dragging on the floor and they cannot reach to clean that area.
Not only is this extremely uncomfortable for them but the potential for infection, urine scald and fly strike are increased dramatically as is the strain on their hearts. Both bunnies also have to undergo dentistry work as their inappropriate diet has affected their teeth.
One had rotting teeth that had to be removed and the other's had not been worn down by the natural chewing action an appropriate diet gives leaving spurs to grow which have to be filed down.
As we know 'a hutch is not enough' but an adequate hutch and built in run still restricts a bunnies natural movements. Where possible let bunnies be bunnies and allow them the freedom to stretch, jump and (for the less garden proud) dig a little. Regular supervised exercise is so important and sitting in the garden with a nice cup of tea watching your bunnies caper about is very relaxing.
We can only emphasise that this owner had the best intentions for her rabbits and was heartbroken to relinquish them to us. There is nothing wrong with giving your pets treats but please control portion sizes and make sure they exercise.
Our recommended diet for rabbits is plenty of roughage in the form of free grazing, make sure that your rabbit cannot access any poisonous plants, or good quality hay daily, and dried grass available from pet shops Pick dandelions and other herbage that you know your rabbits enjoy (for a full list contact PACT) always make sure that these are very fresh and picked away from roads and dog walking areas. and offer chopped carrot, apple, and vegetable stalks, rabbits love brussel sprout stalks when in season., Keep dry food to a minimum and only feed pellets, rabbits, just like children, will pick out their favourite bits from a cereal mix and will not therefore be eating a balanced diet.
THE TRUTH ABOUT FREE RANGE HENS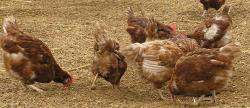 We all imagine free-range hens roaming in green fields, pecking about happily. The truth is often far from that ideal. Most free range hens only have about eighteen months of life and it is the norm for them to be culled around that age as the best of their laying days are considered to be over. PACT recently admitted one hundred 'free range' hens, part of a group of hens rescued from slaughter.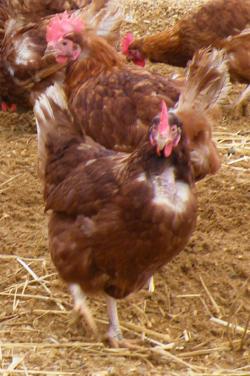 When they arrived at the Sanctuary we were horrified to discover that they had been debeaked (their top beaks trimmed to prevent cannibalism). This is a practice common with battery hens, as due to overcrowding the hens attack and damage each other, and many were 'feather plucked', again something normally encountered in overcrowded conditions.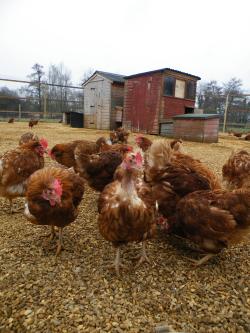 We learnt that the 'free range' hens had in fact been kept in sheds with access to small runs, and that not all the hens were able to go out into the runs and were therefore condemned to live their short lives squashed in the sheds in conditions little different to battery hens.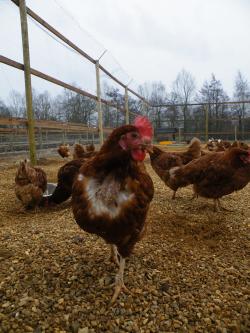 When buying 'free range' eggs please try to ensure that the hens are truly able to range freely. Buy direct from the farm where you can judge for yourself or from reputable shops that are able to assure you that the suppliers have been properly inspected.
THE MYTH OF THE MICRO PIG
Is the any such thing as a micro or teacup pig? Simple answer no there is not. Recently there has been much publicity about pigs being bred down in size as pets, and many horror stories of pigs being sold to live in totally unsuitable accommodation such as small estate houses and flats, growing too large for their homes and creating absolute mayhem.
To put the story straight, pigs can make wonderful companions, they are basically clean creatures, as long as they have the right facilities, are highly intelligent, and will live happily with humans. However they are gregarious creatures who should never be deprived of friends of their own species, if so deprived and kept in small indoor quarters they can become bored, destructive and even aggressive. Not an ideal house guest. Whether or not it is right for humans to interfere with nature and breed any animal to change in size or appearance, it does take many years to bring about these changes. The so called micro or tea pot pigs have not been through this necessary period and are therefore reverting to type and growing much larger than their owners expect.
NORMAN
Recently PACT was contacted by a lady who was very concerned about the welfare of a group of pigs being bred and sold as pet micro pigs. This particular breeder, Jane Croft of 'Little Pigs', is very good at marketing and a successful business woman; she has appeared on television and even sold pigs to well known celebrities. Little Pigs and other similar breeders guarantee to take back any pigs who are no longer wanted and find them new loving homes. Some also offer the same service to micro pigs not sold through them. People believe this and have sent their much-loved pets trusting that their pigs will find loving new homes.
RAY
However we worry that many of these lovely animals may be sent to the slaughterhouse. Based on this information staff from PACT visited Little Pigs and discovered many pigs living in poor conditions with insufficient shelter. There were around ninety pigs living on an area the same size as our pigpen where we keep only nine. Posing as potential customers we were able to save five pigs. Five more were rescued by another well-known Sanctuary, but sadly we cannot save them all. No home checks were carried out, and no interest was shown in their future welfare. In fact 'Little Pigs' only concern seemed to be making sure that the correct movement orders were completed as they had already been prosecuted by DEFRA.
ALBERT
No matter what their eventual fate, all animals have the right to freedom, comfort and shelter and to be cared for properly during their lifetime. People are being conned into believing wrongly that pigs can be bred to remain tiny and be suitable as house pets, and when this does go wrong that the animals they have grown to love will be rehomed to the right environment. They deserve to know the real truth. Animal welfare is very important to PACT.
This micro pig myth needs to be fully exposed and although there has been some media coverage no one seems to be interested in presenting the full facts. PACT would be interested in talking to anyone who has bought a micro pig that has remained micro. Contact us 01362 820775 or email us
OSKAR THE BEARDED DRAGON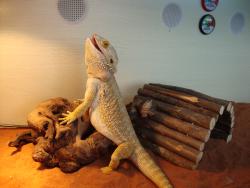 Oskar is a magnificent adult Bearded Dragon. He was rescued from neglect by a very caring person but needed veterinary treatment and better facilities which she simply could not afford.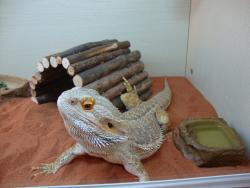 Oskar came to live at the Sanctuary where he was given the necessary care and treatment before being rehomed. Bearded Dragons are one of the easier lizards to keep but do require specialist knowledge and the right housing; they are not a pet to take on lightly.
If you would like to give a regular donation to the sanctuary please
click here.