RESCUE FERRETS

We are constantly inundated with unwanted and stray ferrets and we are always short of space for these cute animals.
Ferrets do make delightful pets, they are intelligent and lots of fun, they can be trained to walk on a harness and lead and to come when called and if properly handled are very affectionate.
However they do need lots of space and attention, they are best suited to living outdoors in a safe run with protection against the elements.
Ferrets are great escape artists and therefore need a sturdy enclosure wired to prevent them from chewing their way out and with a secure safety corridor.
We are happy to offer advice on caring for ferrets and suggest that you visit the Sanctuary to see our ferret enclosures before you build or buy a home for your ferret.
PACT is open from 12 Noon to 3.30pm Wed. Thurs. Fri. and Sat. for anyone looking for a new animal in their life. Outside of these times is appointment only please. N.B PACT is not a visitors centre.

If you are interested in a particular animal in our animal shelter please check that the animal can be viewed before you travel.
If you would like to give a regular donation to the sanctuary please

click here.

PACT has been doing ferret rescue for some years and always has lots of rescued ferrets looking for new loving homes. Traditionally ferrets are used by humans for hunting rabbits and most people do not realise what really fun pets they can be.
Ferrets make wonderful pals, entertaining and affectionate, they can be trained to a lead and harness and will even learn to live with cats, but fairly obviously cannot be kept with rabbits. Ferrets love to play with their humans but do also need friends of their own kind, therefore we will only home them to be companions to existing pets or in pairs or groups.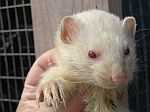 They love running through pipes, hiding in hammocks and playing with water. Ferrets prefer to live in an outdoor run with a well-bedded weather proof cosy hutch or shed to sleep in and do need lots of room to run and climb, Beware however ferrets are very clever escape artists and their quarters must be chew proof with a safety corridor.
As our rescue ferrets are all neutered they will not make good 'working' ferrets and we at PACT are not happy to home ferrets to hunt or kill other animals.
PACT has many different rescue ferrets looking for good homes. If you think you could help then please contact us in the first instance on 01362 820775 or email us or come along and see them when the sanctuary is open.