RESCUE RABBITS
PACT has many different rabbits in our rabbit village. Please contact the office if you are looking to give a rabbit a forever home. 01362 820775 or email us
Latest arrivals
Three rather beautiful lion head cross rabbits recently arrived due o accidental breeding. Pictured here is Cheesepuff the only one of the three who has not yet found a new human to love.
Cheesepuff is a delightful rabbit who will give some lucky person hours of pleasure and will make an ideal companion for a lonely only bunny. Just like us rabbits do need friends of their own species and freedom to be rabbits, they are simply not designed to live alone in a small hutch so a run with enough height to jump and space to play with the ability to graze is essential.
PACT always has at least 80 rabbits looking for new homes. All our rabbits are vaccinated, neutered, and mostly paired as rabbits do need friends of their own species, however we do keep just a few single rabbits of both sexes for people who are looking for a companion to an existing pet.


The rabbits pictured are from a group of baby and young adult rabbits who were being kept indoors in an upper story flat. They had never experienced fresh air or free grazing which is essential for a rabbit's well being, and were breeding enthusiastically.
Obviously a large group of rabbits free range in a small flat was causing untold damage. Although they were well fed and loved the conditions were not ideal and after seeking expert advice the rabbits' owners agreed that it would be best for their bunnies to come to PACT to be rehomed.
We are looking for homes where hopefully some of the siblings can stay together, and as these boys and girls have so far always lived indoors they will need to be kept quite warm for the rest of the winter.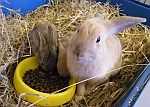 PACT is open from 12 Noon to 3.30pm Wed. Thurs. Fri. and Sat. for anyone looking for a new animal in their life. Outside of these times is appointment only please. N.B PACT is not a visitors centre.

If you are interested in a particular animal please check that the animal can be viewed before you travel.