RESCUE RABBITS
PACT has many different rabbits in our rabbit village. Please contact the office if you are looking to give a rabbit a forever home. 01362 820775 or email us
Post from The Rabbit Residence Rescue
TRANCING RABBITS
Across the internet, there are many, many of photos of rabbits being held on their backs.
Some people believe that rabbits enjoy being held this way and that it helps them relax, but this is far from true as they are a prey species and are pretending to be dead when held this way and will be extremely frightened.
Holding rabbits on their backs causes stress levels and their heart rate to increase meaning they are acting out of fear rather than enjoyment.
Repeatedly trancing your rabbit can cause long term physical and psychological issues and isn't needed even to groom your rabbits or clip their nails.
Latest arrivals - September 2018
George came to us in September of last year. He is an eighteen months old continental giant with a huge personality. He was handed over to us because his owner was misinformed by the pet shop and was told that two males could live together. At PACT we would only pair a castrated male with a spayed female. So if you have a female bunny that is looking for a big strong hus-bun (excuse the pun), give us a call.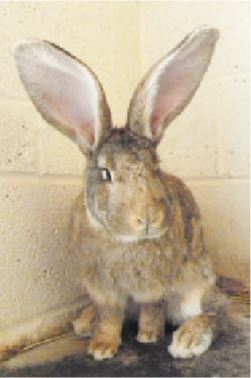 Hershey is a beautiful black and white lop. He came into us as a five month old kit who was a result of accidental breeding. He has been with us for eighteen months. He is such a sweet loving boy who desperately needs a loving home, could you be that special someone.?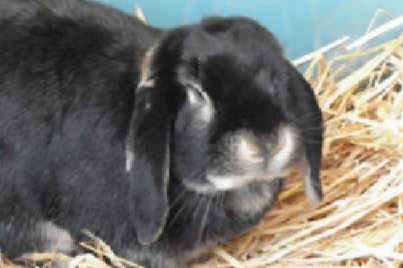 PACT always has at least 80 rabbits looking for new homes. All our rabbits are vaccinated, neutered, and mostly paired as rabbits do need friends of their own species, however we do keep just a few single rabbits of both sexes for people who are looking for a companion to an existing pet.


The rabbits pictured are from a group of baby and young adult rabbits who were being kept indoors in an upper story flat. They had never experienced fresh air or free grazing which is essential for a rabbit's well being, and were breeding enthusiastically.
Obviously a large group of rabbits free range in a small flat was causing untold damage. Although they were well fed and loved the conditions were not ideal and after seeking expert advice the rabbits' owners agreed that it would be best for their bunnies to come to PACT to be rehomed.
We are looking for homes where hopefully some of the siblings can stay together, and as these boys and girls have so far always lived indoors they will need to be kept quite warm for the rest of the winter.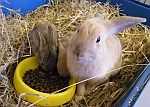 PACT is open from 12 Noon to 3.30pm Wed. Thurs. Fri. and Sat. for anyone looking for a new animal in their life. Outside of these times is appointment only please. N.B PACT is not a visitors centre.
If you are interested in a particular animal please check that the animal can be viewed before you travel.