RESCUE RODENTS
PACT always has lots of rodents looking for loving homes, including rats, gerbils, hamsters, mice, degus and chinchillas. If you can offer one of these furries a good home please come and see them when the sanctuary is open, or contact PACT by telephoning 01362 820775 or using our contact form (click here).

CHINCHILLAS
Dwayne and Brian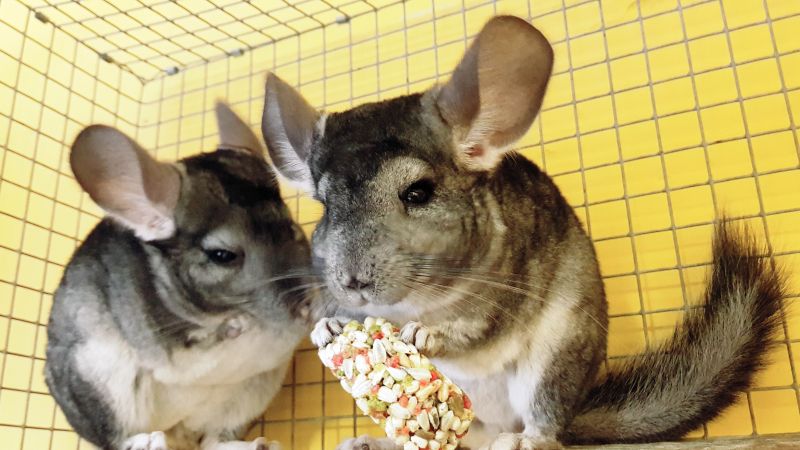 Dwayne and Brian are two gorgeous 6 month old male chinchillas who came to PACT recently through no fault of their own. PACT is their third home already in their short lives, so we want to find them a forever home, where they can live happily as part of the family. Chinchillas can live for around 18 years so they are a long term commitment requiring a special diet, regular handling and a spacious secure metal home with lots of enrichment. They do like company so are best kept in a pair, either same sex or a neutered male with a female. Under all that fur is a small, fragile body and if they become ill vet bills can be expensive as they are classed as exotics. If you think you can offer these boys the perfect home please pop in during our open hours, (Wednesday to Saturday 12 to 3.30) or phone 01362 820775 and ask to speak to Anne for more information or to discuss our rehoming requirements.
GUINEA PIGS
Rolo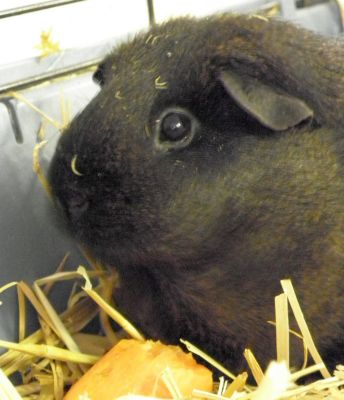 Rolo is a single female guinea pig looking for love. She is a beautiful two year old brunette, she must be the only female as she will fight with others so we would only rehome her to a neutered male. She is a very sweet girl and always gets over-looked. If you have a male piggy waiting for that special lady please come and meet her.
Dora & Co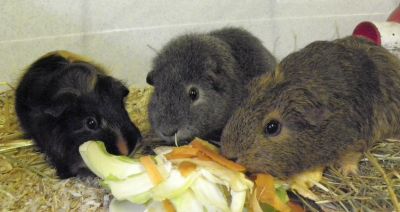 This bunch of seven piggies came to us after their owner had to move home. They are all female and around one year old. As they were such a large group we couldn't house them together, so we have a group of three that will be rehomed together and a group of four that can either go as a group or in pairs. They are all super friendly and will make amazing pets.
We also have lots of other guinea pigs looking for new homes with someone to talk to!
DEGUS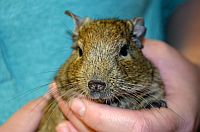 Degus do make entertaining pets but beware they are very active and nocturnal, normally friendly, they are extremely quick and therefore not easy for a child to handle so are best suited to homes where adults carry out most of the care. We always have lots of degus looking for their forever home.
Degus are less sought after now than a few years ago and we are finding it difficult to find new homes for these sweet little creatures, again they are nocturnal but do live longer than some of the other rodents and can become quite tame.

HAMSTERS and GERBILS
Hamsters and gerbils are still one of Britain's most popular pets, they are cute and entertaining but the down side is that they are nocturnal, they want to play and make noise when humans want to sleep, they are not long lived, and can pack a nasty bite if not handled properly.

RATS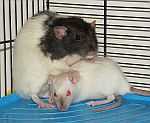 Rats make far the best pet for any member of the family. Most people are brought up to find rats scary and are often put off by their tails, but once they get to know these entertaining little creatures they realise what fantastic pets they are. They are highly intelligent and very loving; they form a bond with their humans really quickly, soon learn their names and readily come to call. Much quieter and less aggressive than the traditional rodent pets, they also have the advantage of not being totally nocturnal so they are happy to wake up and play whenever their owners wish them to. In fact the only down side to having rats as pets is that they simply do not live long enough.

FANCY MICE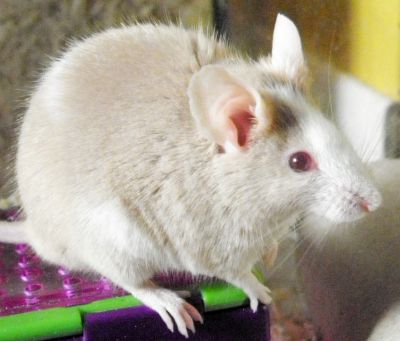 We currently have 7 Fancy Mice (2 males and 5 females) all looking for a new home. They were saved form horrendous conditions with no food or water and were destined to be snake food. There were originally 16 but we have managed to rehome a few and also due to the conditions they were kept in some were too poorly and passed away. They are all very friendly and will make lovely pets. We rehome our mice in groups or pairs as they are very sociable little creatures and it would be detrimental to their health to live alone.
PACT is open from 12 Noon to 3.30pm Wed. Thurs. Fri. and Sat. for anyone looking for a new animal in their life. Outside of these times is appointment only please. N.B PACT is not a visitors centre.
If you are interested in a particular animal please check that the animal can be viewed before you travel.