TREACLE GUINEA PIG

PACT helps with a wide variety of species of animals, some are rescued from appalling conditions others are admitted at the request of owners who can no longer cope, such as Treacle guinea pig who came to the Sanctuary along with four other guinea pigs as a result of accidental breeding. All the girls were pregnant and Treacle herself gave birth to three healthy boys. All of the adults have now been reserved subject to home check but some of the babies are still waiting. We are expecting another large group of guinea pigs to arrive any day, so we do have plenty to choose from. Guinea pigs make delightful pets, could you share your home with two or three of these entertaining, beautiful, affectionate animals?

DEGUS
We have six male Degus looking for their forever homes.
Bertie and Dennis are one year old, living happily together and are very inquisitive. They are still a little shy but are friendly and are improving with handling. They were brought in by their owner who couldn't handle them.
Chalk, Cheese, Stumpy and Ren are all six years old and brought in by their owner as she had a new baby and felt that she was neglecting them. Stumpy has only half a tail and Ren has a cataract. These are a friendly pair that love to explore and are a happily bonded pair.
Chalk and Cheese are currently living single lives as they weren't getting along together.
LOTS OF GUINEA PIGS LOOKING FOR A NEW HOMES WITH
SOMEONE TO TALK TO!
Earlier this year we took in eighteen Guinea Pigs, eleven males and seven females. They were brought in to us as the lady was struggling to cope with so many.
They were being kept in cramped conditions in a built-in wardrobe that had been converted into hutches in a mobile home with males and females cohabiting. As such two females have now given birth, each having a litter of three beautiful babies and we have one more who is due to give birth any day.
All the boys will be castrated and once we are satisfied that no more girls are pregnant they will all be looking for their forever homes.
Can you offer a good home to these gorgeous little Piggies?


DEGU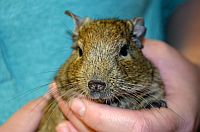 This little chap was left with a temporary carer when his owners went away on holiday, sadly they never returned to collect their pets and so they had to be rehomed.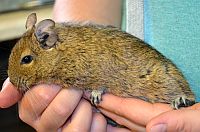 Degus do make entertaining pets but beware they are very active and nocturnal, normally friendly, they are extremely quick and therefore not easy for a child to handle so are best suited to homes where adults carry out most of the care. We always have lots of degus looking for their forever home.


RON AND RUBIN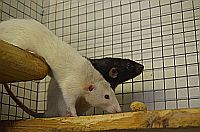 These six month old brothers are very friendly and looking for a home together. Can you give them the attention they crave after being abandoned and left to
die in a cage in the woods.


PACT always has lots of rodents looking for loving homes, including rats, gerbils, hamsters, degus and chinchillas.
Hamsters and gerbils are still one of Britain's most popular pets, they are cute and entertaining but the down side is that they are nocturnal, they want to play and make noise when humans want to sleep, they are not long lived, and can pack a nasty bite if not handled properly.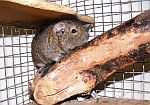 Degus are less sought after now than a few years ago and we are finding it difficult to find new homes for these sweet little creatures, again they are nocturnal but do live longer than some of the other rodents and can become quite tame.

Chinchillas are beautiful to look at but most people do not realise that they are a long term commitment, they can live up to 18 years and therefore are not a good choice as a children's pet as parents will inevitably be left with the responsibility when son or daughter leaves home.

Rats make far the best pet for any member of the family. Most people are brought up to find rats scary and are often put off by their tails, but once they get to know these entertaining little creatures they realise what fantastic pets they are.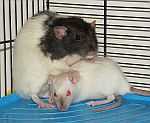 Rats are highly intelligent, very loving - they form a bond with their humans really quickly, soon learning their names and readily come to call. Much quieter and less aggressive than the traditional rodent pets, they also have the advantage of not being totally nocturnal so they are happy to wake up and play whenever their owners wish them to. In fact the only down side to having rats as pets is that they simply do not live long enough.

If you can offer one of these furries a good home please come and see them when the sanctuary is open or contact PACT on 01362 820775 or email us.
PACT is open from 12 Noon to 3.30pm Wed. Thurs. Fri. and Sat. for anyone looking for a new animal in their life. Outside of these times is appointment only please. N.B PACT is not a visitors centre.

If you are interested in a particular animal please check that the animal can be viewed before you travel