Sponsored Events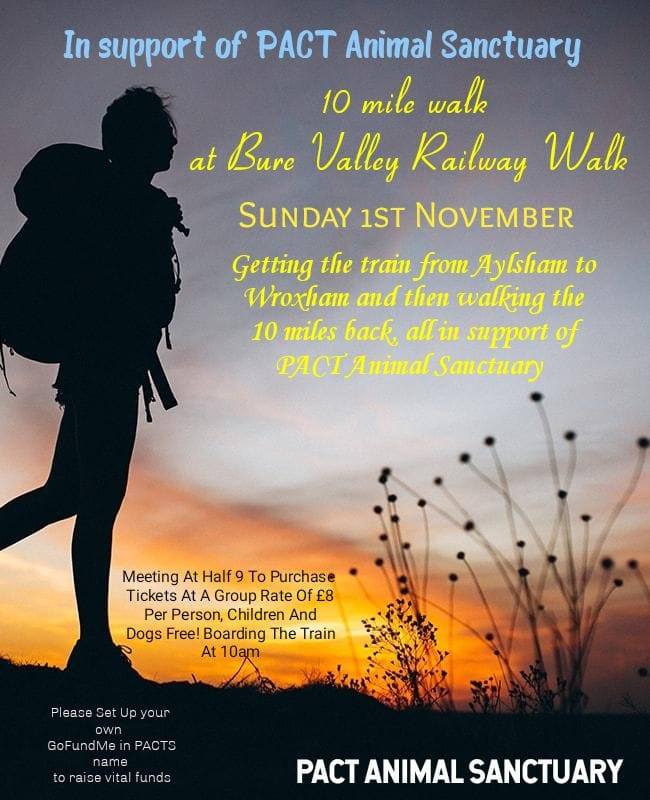 Are you a keen walker? Want to help support PACT but not sure how?
Why not join us on the Bure Valley Railway Walk for a sponsored 10 mile walk?
Get all your friends, family and co-workers to support and sponsor you!
All you have to do is turn up on the day and set up a GoFundMe for PACT https://uk.gofundme.com
For more information about Bure Valley head to www.bvrw.co.uk/explore
We look forward to seeing you ❤️
Follow us on social media to hear about the latest events.

Donations can be made via our
over the telephone by card on 01362 820775
a bank transfer to account 94048644 sort-code 40-35-09
a cheque in the post to
PACT Animal Sanctuary, River Farm, Woodrising, Hingham, Norfolk NR9 4PJ
PACT is an all animal sanctuary based in Norfolk that has 1600 plus animals in it's care and operates a 24/7 emergency ambulance services for animals in distress.
From deer to birds a wide range of animals are helped every year and PACT are the only shelter to offer this service in East Anglia.