Success Stories
IN PRAISE OF STAFFIES - COLIN-DOG'S STORY
COLIN-DOG (previous name Collar) came to PACT in Nov 2015 aged 3½yrs due to his owners not being able to handle him. Lack of socialisation and manners made him nervous around people or dogs; he was very reactive when cats were near and hated anyone who approached wearing a baseball cap. In August 2017 Sue and Graham Bergin decided she would give Collar a chance of a new life, he was 5½yrs old and had been overlooked for nearly two years.
Sue and Grahams letter (below) reminded us of the very bad press Staffordshire Bull Terriers often suffer. In reality, in the right hands and with the love and care they crave, Staffies are wonderful companions that will always repay with interest your love for them.
"Just to say Colin-dog (who was Collar) the 5 year old rescued Staffy is settling in very well with us and in July / Aug this year it will be a year. So I was wondering if you would like to add this image in the newsletter? and here's a poem that I have written on behalf of our sweet boy, Colin-dog." Sue and Graham Bergin
A Staffie's Tale
Colin-dog's my new name, and my new home's not half bad
All my fears I overcame, with help from my new Mum & Dad.
Out on the streets I felt dejected, but PACT took me under their wing,
With their love I felt so protected and now I have started to sing.
I have always had a sweet voice; it was tucked so far away,
Now there's so much to rejoice in joyous wonders every day.
Much love to my friends at PACT, for I will never forget,
A strong love I never lacked, so warm and caring, that's a fact.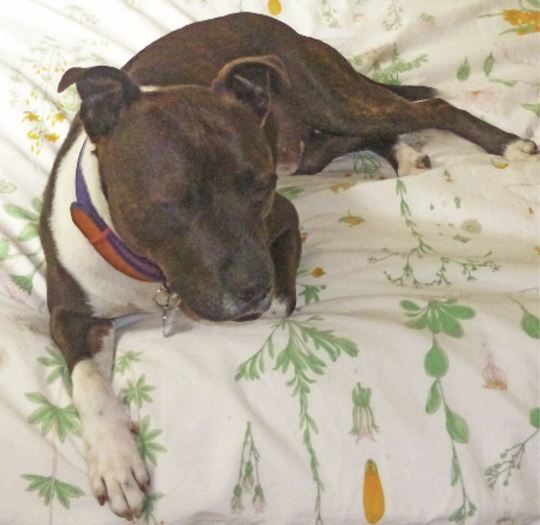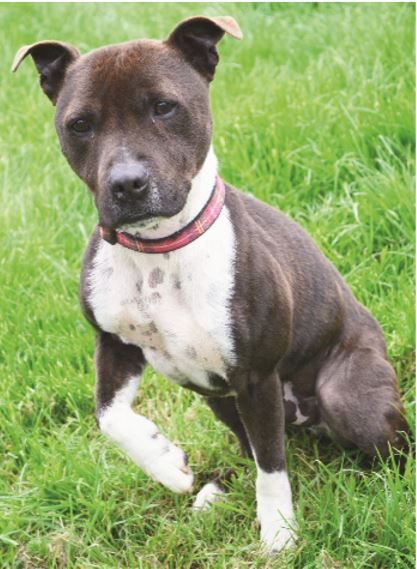 PLEASE READ THE STORIES OF HARLEY, KANE AND HANK AND ASK TO SEE THEM AND DODGE AND KIP AT THE SANCTUARY.


ANOTHER SUCCESS FOR OUR 'ON CALL TEAM'
The call out was regarding four small, obviously neglected, dogs seemingly abandoned in a Norfolk village.

Two groups of dog walkers had managed to catch three of the little ones but the fourth was running scared, snapping at pursuers and evading capture. The three that had been caught were brought to PACT where we were shocked at the terrible condition the dogs were in.
All had bad teeth and resulting bad breath, two had seriously snotty noses and one was so matted that it was hard to tell which end was which. This is the fur that was groomed out!


Having made them comfortable for the night our Anne returned with the rescuers to search for the fourth member of the group but with no success. Not to be deterred the kind couple who had captured the three musketeers searched the following morning and luckily managed to persuade the very frightened dog into their car and made yet another trip to the Sanctuary.
We are pleased to say that after treatment by our vet team and some serious grooming the dogs made a good recovery and have found their forever homes with two of our volunteers.

This sweet little dog was found as a stray and taken to our local dog warden suffering badly from mange. The lovely family who found Max offered him a permanent home but as the law states that strays must be handed in to the dog warden they obviously could not keep him, plus they had to consider the welfare of their existing dog as mange is highly contagious. When no owner came forward to claim Max, PACT stepped in to carry out his treatment and offered him our isolation kennel. Max is almost fully recovered but will need further tests to ensure that the nasty little mites are completely eradicated and as soon as he is pronounced fit and healthy he will be leaving us to live with the kind people who have been patiently visiting him regularly. We know that they will keep in touch with us and it will be rewarding for us to see just how cute he will look when his coat has fully recovered. Another little dog who could have faced a fate worse than death but will now live a happy life thanks to PACT.
OSCAR
Very happy in his new home.

I just wanted to let you know how Oscar is getting on in his new home- in a word, wonderfully! I'd realised he was a great dog but I hadn't realised just how great! He's so affectionate, he's well behaved and improving all the time- walks beautifully on the lead and is good off the lead. He's enjoying lots of long walks and is turning into a great running companion too- he's lost a lot of the extra weight already. He's great with other dogs we meet and has settled in really well with my cat . He doesn't like being left alone (he's by my side nearly all the time at the moment) but we're working on building up his independence and he's spent a couple of happy afternoons at his future holiday home (i.e. my parent's house).
HOLLY


Earlier this year, me and my husband adopted Holly the kitten- one that was found under a bush last Christmas Eve. We thought you'd like to hear about her progress one year on. We're delighted to report that she has come on leaps and bounds. She's settled in extremely well and seems happy and comfortable here with us. She is getting more confident every day and sits with us every evening for a cuddle. She allows Leo to pick her up for a cuddle too. She and our male cat, Rudi, have made friends now and spend their time playing indoors and in the garden together. I've taken a few snaps of her today for you, and if you could please pass them on to Fiona, who fostered her we would be very grateful. Merry Christmas!
FRED
Fred owes a big thank you to everyone who worked to get him to where he is today. From the Romanian rescue through to PACT Sanctuary where the staff work with these traumatised dogs and of course his new owner. Good luck Fred and be happy.

From this ...

... to this!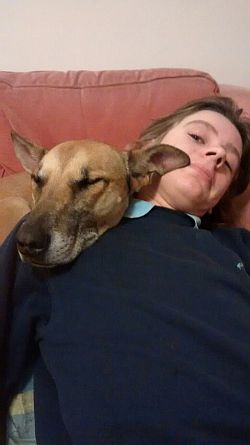 Fred's getting on very well, he seems very happy and we are too.
He's such a sweetheart, we couldn't have asked for a nicer dog, he has a really lovely temperament, he's so friendly with everyone he meets. That goes for dogs too with the odd exception of course, but I guess that's normal.

Oh, and we've discovered he does like to bury stuff, and he's very good at it. He usually buries his brand new chews in the garden but he's also buried stuff down the back of the sofa and then stuffed a cushion on top with his nose. Yes, he's keeping us amused :o).
ARCHIE


Archie's owners were having to move home and could not find anywhere to keep Archie. An elderly pony, not suitable for riding, and prone to attacks of laminitis, the only option was to put Archie to sleep. Again PACT to the rescue and sweet Archie is now living happily with our rescued herd.
CASPER
One of our Romanian rescues in his new home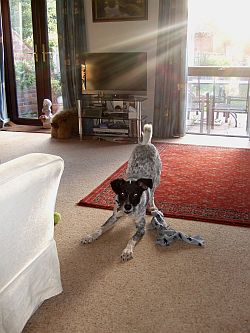 Casper came from Romania this year and is now very happy in his new home. Left in Romania it is doubtful he would still be alive. We have several more dogs coming from Romania for more information of the crisis out there click here.
COLIN THE CORMORANT

Colin the cormorant was found wandering along a busy country road, not a normal habitat for a water bird, well away from any large water source where he would be able to fish for food. He was looking very confused and somewhat wobbly. Colin was duly caught and brought to PACT where he is living in one of our wildlife aviaries until he has built up sufficient strength to be released in a more natural environment.
Colin is eating his way through over £2's worth of fish each day, so not only will he be pleased when he is free again but our budget will certainly feel a lot healthier.
COLIN BEING RELEASED

BLOSSOM
ONE VERY LUCKY PIG THAT DID NOT GO TO MARKET

Blossom piglet was found by a member of the public running around on the road in danger of being hit by a car. Although there were pig farms a few miles away, there were none close by and it was anybody's guess where the little piggy could have come from, she had obviously travelled some distance as she was covered in scratches, very stressed and exhausted, or maybe she had fallen from a lorry.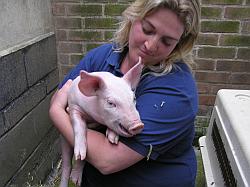 As pig farmers do not generally take in strays, there is too much risk of disease being carried, Blossom was brought to PACT where she will spend the rest of her days in peace and safety.
LOUIE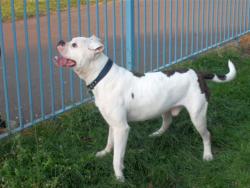 Louie settled into his home really well and soon found the sofa was his most comfortable place to sleep! He has become very affectionate and often rolls onto his back to have his belly rubbed and very much enjoys all the attention people give him.
Life in the fast lane!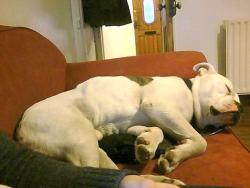 He enjoys going for long walks and playing with his toys. He is a pleasure to have and we care for him so much.
TIGGA
The only thing I worry about now is where the next tennis ball is coming from. I am so happy.
Tigga has settled well in her new home and her new family love her. She gets so excited with the tennis balls that she punctures them! A very happy little staffy.
YOGI


I have cracked it!

Hi everyone,
Here I am making myself at home! The first thing I did when I came in was to have a huge drink then I inspected the garden and marked my territory. I'm a bit tired now so having a kip.
Lots of love, Yogi xxx
If you would like to give a regular donation to the sanctuary please click here