Dear Supporters,
In response to the article in our recent Newsletter (February 2023) in reference to George's "Last Note".
We apologise for the sentiment contained in Georges note, and would like to provide you with a joint response from Su Leske and the Board of Trustees.
As of February 1st, George started his retirement, and the Board of Trustees immediately invited Su to take the position of Interim CEO. We are delighted to say, she accepted the opportunity and all responsibility for day to day running of the charity.
We all agree that Su is a valued and integral individual who is key to the continuity and future of the Sanctuary, and the Board have assured her of their support in her Interim CEO role, and her application for any permanent position. It is our duty as Trustees to adhere to the Charity Commission legislation, and to also follow fair recruitment practice. As such, this and any other vacancy we have within the organisation will be advertised and fairly recruited to fulfil. There is absolutely no intent to remove Su from the PACT team.
With any change in any organisation there is always a period of uncertainty and change which could unsettle staff, supporters and volunteers. Please be assured that Su and the Trustees are working through this together to ensure the success of the Trust continues and we maintain and grow our commitment to animal care. We acknowledge Su's experience, knowledge and commitment as essential to lead us, our staff, volunteers and our supporters through this period of change, and we thank Su for this. Su is already focused on efforts to address our financial position, to ensure we survive the current economic climate. We are confident that we are on the right track.
Our promise to our supporters is to ensure the success on the Sanctuary for years to come, and we cannot achieve this without your generous financial support. We ask you to bear with us through this transition period and continue with your allegiance to PACT, of whom Su and the Board of Trustees are grateful.
We are delighted to confirm that our Open Days will now take place this summer, and look forward to the opportunity to meet with you there. However, if our reply does not provide you with the reassurance that PACT and our animals are safe and in good hands, we would happily organise an open meeting to discuss this face to face.
This reply is issued jointly from the Trustees, and Su Leske, Interim CEO of PACT Animal Sanctuary
George Retires after 28 years
George has said his goodbyes to PACT and sends his thanks to all the friends and supporters from the last 28 years, since he and Chris founded PACT.
George has seen PACT through many struggles and many happy times during this time. He takes with him, many memories of animal rescues, open days, and has met many wonderful supporters over the years.
We do have the memorial garden for Chris here at the entrance to the Sanctuary, which reminds us daily of their legacy and dedication, for which we and the animals remain grateful and indebted to them.
One of Georges last requests is for us to increase our number of volunteers. One area where we are desperate for help is with volunteers to collect donations local stores throughout our areas. If you have the time to help with this, please call Jordane on 01362 820775, or email her at media2@pactsanctuary.org.
Su Leske, who has been George's assistant for the past 3 years has been appointed as Interim CEO, and we remain in safe and capable hands.
Su, is seen below with some of the team of dedicated staff and volunteers who continue to safeguard their legacy of first class all-animal welfare with the ongoing support from our dedicated supporters.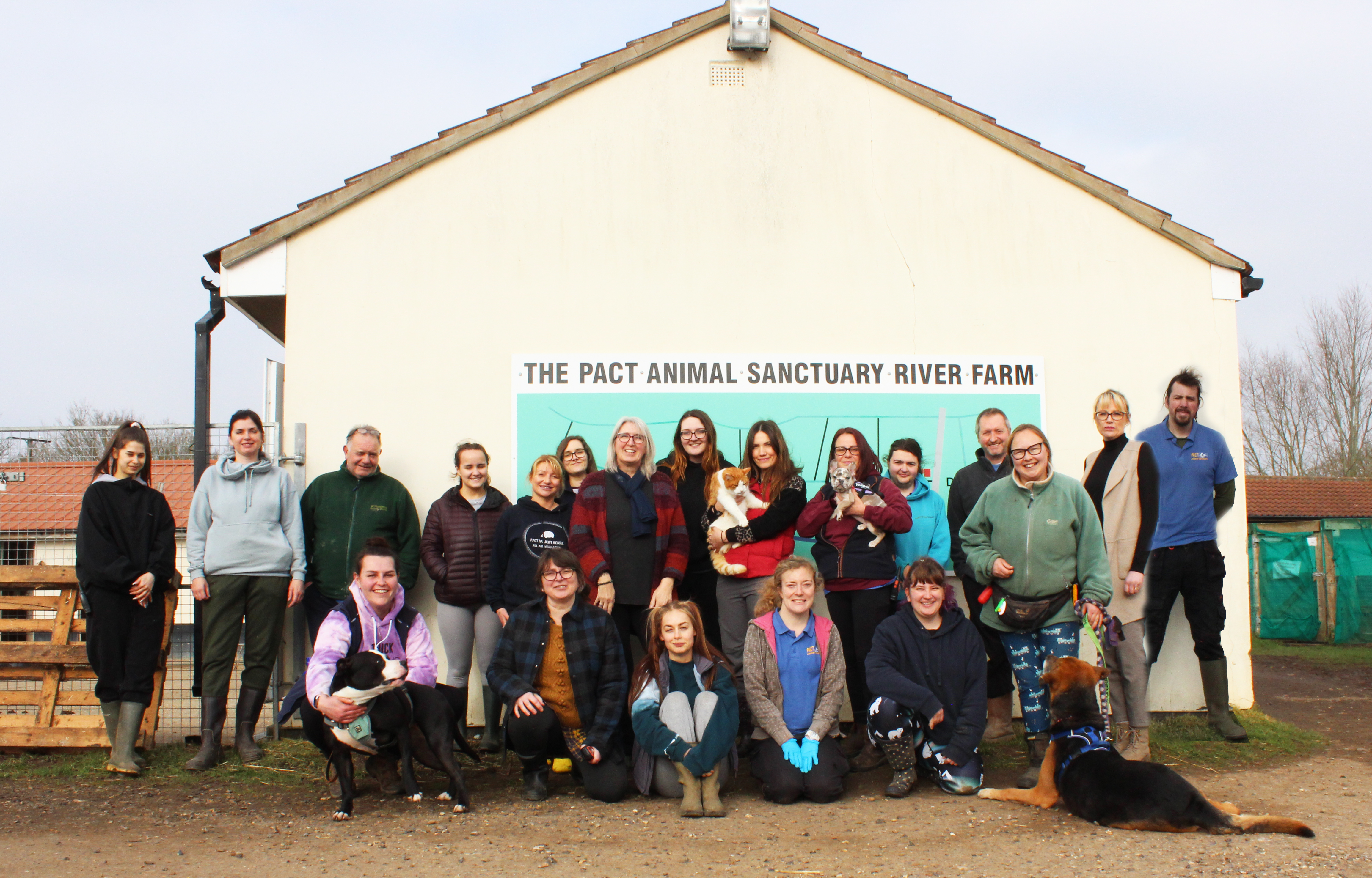 Chris and George below.