The Henry Hallam Therapy Centre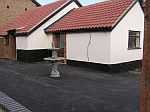 In November 2006, PACT was awarded a £50,000 grant from the 'Big Lottery Fund to convert an old barnyard with buildings suitable to be updated to accommodate friendly animals, thus affording a quiet, contained place where people with physical, mental and emotional stress problems can associate and interact with the animals without being exposed to the other volunteers etc.,.
The Centre opened in May 2008 and includes a cuddle/study room and disabled toilet facilities. It has attracted a considerable amount of interest, as it is the first of its kind in the country.
The Henry Hallam Therapy Centre where people with problems can be close to the animals but away from the general bustle of the Sanctuary and relax in peace and quiet.
If you would like to give a regular donation to the sanctuary please


click here.